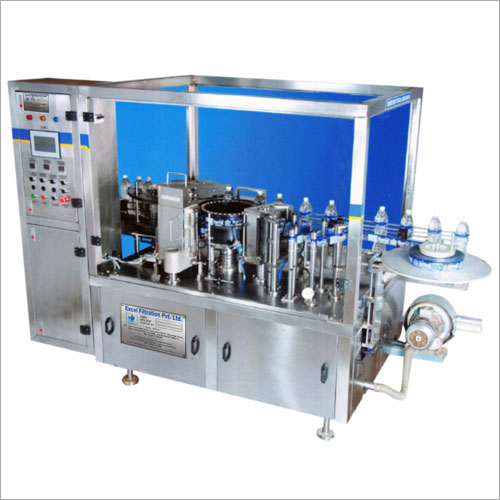 Automatic BOPP Labeling Machine
Product Code : 00
12,90,000/- INR
Price And Quantity
Minimum Order Quantity

:

1
Unit of Measure

:

Kilograms/Kilograms
Product Specifications
Product Type

:

Labeling Machine
Computerized

:

No
Automatic Grade

:

Automatic
Control System

:

Human Machine Interface
Drive Type

:

Electric
Accuracy

:

H - 50 - 100, L - 160 - 295 mm
Power Source

:

Electric
Voltage

:

3 phase, 430 Watt/Volt ( w/v)
Dimension(L*W*H)

:

L - 10 X W - 4 X H - 6 Foot (ft)
Capacity

:

24 to 220 BPM & Above
Feature

:

High Efficiency, Lower Energy Consumption, Low Noise, ECO Friendly, High Performance, Simple Control
Warranty

:

1 year warranty
Product Description
AUTOMATICBOPP LABELLING MACHINE
BOPP films (Biaxial Oriented PolypropyleneFilms) are produced by stretching polypropylene film in both machine directionand transverse direction.
Automatic BOPP Labeling Machineoffered comprise hot melt labeling machines that can be made available by us indifferent operating model options to choose from. Featuring automaticoperations, these can handle bottles of different size capacities as well as invaried production speeds.
The use of superior grade stainlesssteel in construction also makes these machines deliver optimum performancesupport.
These machines find suitability inmeeting the labeling demands of products like bottles, jars, vial, tin andother packaging in round finish form.
Further, the presence of microprocessor control based label dispensing system as well as advanced sensingsystem for label and products also assure of optimum support in involvedprocesses.
TechnicalSpecifications:
Bottle Diameter
50mm Min, 105mm Max
Bottle Height
150mm Min, 350mm Max
Size of Label
H 50 – 100 mm , L 160 – 295 mm
Outer Speed
24/ 40/ 60/ 90/120/ 220 & above BPM
Over all Dimension (LXWXH)
10' x 4' x 6'
Label Control
By Print Mark Sensor and Bottle Sensor – both infrared Type
Power Supply
430 V, 50/ 60 Hz
Phase
3 Phase Current
Diameter of Label Roll
Inner: 150 mm ; Outer: 500 mm
Features:
Durable and compact design, the machine frame is covered bystainless steel sheet, anti-vibration and noise absorbing construction.
Control cabinet integrated in the machine housing
Hot melt dispensing contact type labeling system
Label cutting with eye mark as well as length in mm
Cutter is easy adjustment and replacement, cutting at any speedwith precision
Label web tracking for correcting its height and guarantee theconsistent position
Low density results into more yieldduring conversion and thus supports less plastic consumption concept perproduct. Low density results into less weight per roll for the same length ofother plastic film which provides ease of material handling.
Excellent transparency in clear BOPPfilms allows providing high level of aesthetic appeal to product packaging.
BOPP film has a relatively low carbonfootprint as compared to other plastic films substrate such as polyester. Aftercellulose film, BOPP Film is the second most preferred substrate for itseco-friendly nature in flexible food packaging.
Applications:
BOPP film is used in vast range of applications comprisingpackaging, labeling and lamination.
BOPP Films are preferred substrate for food packaging globallybecause of its inherent moisture barrier properties, seal ability, high clarityand graphic reproduction and shelf appeal, best possibilities of the pack beinga mono layer/homogeneous structure.
For food packaging, it is prominently used as co-extruded heatsealable reverse printable film.