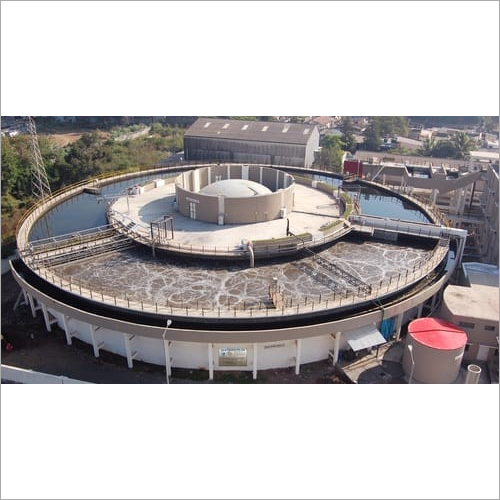 Effluent Water Treatment Plant
Product Code : 20
Price And Quantity
Unit of Measure

:

,
Product Specifications
Membrane Size

:

0.01 TO 0.1 MICRON, 0.001 TO 0.01 MICRON, 0.0001 TO 0.001 MICRON
Capacity

:

2 - 500 Cubic Meter (m3)
Product Type

:

Effluent Treatment Plants
Technology

:

PRIMARY TREATMENT, SECONDARY (BIOLOGICAL) TREATMENT, TERTIARY TREATMENT
Operation Type

:

Automatic
Dimension(L*W*H)

:

DEPEND ON CAPACITY OF PLANT
Color

:

BLUE
Warranty

:

1
Product Description
Whatis Effluent & Effluent Treatment Plant (ETP)?
Industries during the manufacturing processgenerates huge quantity of high toxic effluents which yield very high BOD, COD,TS and TDS level with collared and odor in effluent.
The Effluent Treatment Plant [ETP] plant isdesigned to treat the effluent coming from various areas of the plant. Thetreatment of different effluents varies with the type of effluent. Industrialwastewater contains a diversity of impurities and therefore for this reasonalone, its treatment establishes a special task.
We are offering our clients with effluenttreatment plant equipment that are appreciated for having sturdy constructionand resistance to corrosion. These ETP plant are manufactured acceptingindustrial quality standards and are thoroughly inspected by our qualityanalysts before being delivered to the clients.
We have the experience andcapability to design and commission a host of clarifiers, filters, aeration,coagulation and settling systems for waste from industries like chemicals,drugs, pharma, refineries, lichgates, etc.
Why tochoose Excel Filtration Private Limited (EFPL) ?
EFPL has developed and offering a ZLD(Zero Liquid Discharge) system to recycle treated water for utility and processapplications. We provide innovative and economical systems for waste withexpertise is advantageously employed for the technical and economicoptimization of every subsequent facility.
These ETP plant are manufacturedaccepting industrial quality standards and are thoroughly inspected by ourquality analysts before being delivered to the clients.
Process Description of Effluent Treatment Plant
Effluent can be treated in a number ofdifferent ways depending on the level of treatment required. These levels areknown as preliminary, primary, secondary and tertiary (or advanced). Themechanism for treatment is divided into three categories: Physical, chemicaland biological.
PreliminaryTreatment
Preliminary treatment removes in-organicmaterials and insoluble organic pollutants (i.e., large organic suspended solidmatter, grit, O& G) that can be easily collected from the effluent and candamage or clog the pumps or skimmers of primary treatment clarifiers.
All preliminary treatments consist ofphysical separation techniques by controlling flow rate of effluents.
Units in Preliminary Treatment
Screens
Scrapers
Grit Chamber
Aeration
PrimaryTreatment
It consists of temporarily holding the sewagein an inert basin where heavy solids can settle to the bottom where oil, greaseand lighter solids float to the surface. The settled material go for sludgetreatment in sludge digesters and floating materials are skimmed off and theremaining liquid is passes to secondary treatment. At this stage, over 70% ofthe suspended solids and 40% of the BOD is removed from the effluent.
Units in Primary Treatment
Sedimentation/Settling tank
Clariflocculator
EqualizationTank
NeutralizationTank
SecondaryTreatment
It is a biological treatment of effluentremoves dissolved and suspended organic (bio-degradable) matters by consumingfood and convert it into new cell mass, energy and CO2.
Most common micro-organisms are bacteria(aerobic or anaerobic), protozoa and rotifers, least common fungi and algae.This treatment removes almost 70- 90% of BOD and 80- 90% of dissolved solidsfrom effluent. The under flow from the clarifier and the secondary clarifierhaving a sludge consistency of around 1-1.5% is pumped into the centrifuge fordewatering. The dewatered sludge is then disposed off suitably while theconcentrate is taken back to equalization tank.
Units in Secondary Treatment
ActivatedSludge Process
TricklingFilter
AeratedLagoons
TertiaryTreatment
Tertiary treatment add additional cost to thetreatment process and producing high quality effluent which can be reusefurther for commercial and industrial applications. Treated water is sometimesdisinfected chemically or physically depending upon the discharge location.
Units in Tertiary Treatment
ActivatedCarbon Filters
Disinfection
Ion-Exchange
NutrientRemoval
FEATURES
Integratedzero discharge system
Longerservice life
Ability towithstand in harsh condition
LatestDesign
Durability
Straightforward process treatment- semi/ fully automatic
Continuousflow
Durable UV resistant HDPE bio film carriers
Cold climate nitrification/ denitrification
APPLICATIONS
Chemical Industries
Textile Mills
Pulp & Paper Industries
Dairy Industries
Leather Industries
Petrochemical Industries
Sugar Industries
Mining/ Extractive industries