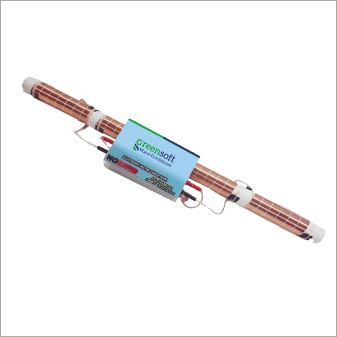 Electronic Water Conditioner
Product Code : 05
Price And Quantity
Unit of Measure

:

,
Product Description
ELECTRONICWATER CONDITIONER
Hardness inwater is caused due to dissolved Calcium and Magnesium salts. Scaling is causeddue to the precipitation of these salts on all the material that this hardwater comes in contact with i.e. pipes, drip lines; taps etc. Research showsthat these salts combine with each other to form crystals and have a tendencyto stick to it and other materials to form scales. These Electronic Water Conditioners are designedand developed keeping in mind of the exact requirements of clients. Made as perworld class standards, these products need very nominal operating cost andensure uninterrupted performance.
Why Electronic water conditioner is use to remove scaling?
Water isvery important for residential, commercial and industrial use. However ScaleDeposit, Algae, Rusting is some of the major problems that degrade the waterquality and damage the piping, appliances and equipments.
Electronicwater conditioner is solution to this problem. It creates a frequency-modulated electromagnetic field inside the water supply pipe which preventsformation of scale. It does not use salt or any other chemical for de-scaling.EWC does not remove natural minerals from Water; it just changes theirstructure to prevent scale formation. The EWC provides a simple and economicalsolution to the lime scale problem. It protects Equipments & Machinerieswill last longer, saving time & money. It protects, cooling towers, heatexchangers, boilers, chillers – refrigeration systems, vacuum pumps, valves, grinders,mixers, industrial ovens and process equipments in all. EWC can achieve asignificant reduction of scale deposits.
Why to choose us?
Our product is having high efficiencyin removing scale and making the water physically soft.
The Price is very good and used commonly by all individual houses. It can beconnected to the main water line and the whole house will be having anti scaledconditioned water. Besides, we offer these at a cost effective price. Thiswater conditioner is designed by using superior quality material andcontemporary techniques under the guidance of our skilled team ofprofessionals. Moreover, this water conditioner can be availed on customizedoptions as per market preferences. We are giving this water conditioner tocustomers at affordable rates.
WorkingPrinciple
Electronic Water conditioner is devicethat uses a series of controlled complex modulating high frequency waveformthat neutralizes the bonding ability of minerals that are contaminated in ourwater. This field effectively agitates different size molecules likely to formscales & to break the bonds between molecules and the water. This resultsbreaking down of large mineral crystals into tiny mineral particles & thenprevent them from reacting with other minerals or bonding to any scale to formscales. The process is so effective that existing scales are progressivelybroke down & flushed away in due course of time. Te conditioned gaseousions results in non corrosive & better tasting water.
Features
Consumes lessenergy
Need very less maintenance
Minimal operating Cost
Environmental friendly
Results oriented
Maintenance free
Alternative for water softener
Advanced technology
Removes previous scale
Zero wastage of water
Environmentally safe.
Effective on any plumbing, HDPE, GI, copper or steel.
Applications
The application of Electronic water conditioner is very much wide.It may use for Industry, Commercial or Residential water.
Electronic water conditioner use in ReverseOsmosis (RO) systems:
This system prevents ROmembranes from scaling and algae. It will help in increasing life of membraneand water treatment plant. EWC is installed before RO- System which helps intwo ways:
Calcium- crystalsare smoother after the EWC treatment; this reduces deposits on the sensitiveRO- membranes. It helps in running RO system longer and more effectively.
The permeate(leftover water) is difficult to handle as it has a particularly high degree ofwater hardness after filtration.
Swimming pools and spas
This system arecomplex systems that demand rigorous cleaning efforts and complicated watertreatment procedures. In swimming pool systems pumping and filtration systemsare very sensitive to scaling. Cleaning this consumes tremendous time and moneyon a daily basis. E.W.C. reduces the cleaning pools and spas, the water line,tiles, grids, floors and pool walls.
Agriculture
EWC helps inkeeping pipes free of scale deposits, protects fine nozzles used forirrigation, and keeps the natural mineral – rich composition of the water. Iteliminates bacterial growth. Additives to water such as fertilizers, vitamins,etc mix very well with EWC treated water.
Poultry Farm
The hard waterbeing used for poultry farm adversely affects the health of the birds. Theconsumption of water is also reduced thereby adding to adverse health scenario.Watering system for the farm is also tends to get clogged due to deposit ofscales. Electronic water conditioner helps in eliminating bird's multiplehealth problems. EWC helps in water systems remaining scaling free andenhancing fertility of birds.
Hospitality –Hospitals, Nursing Homes, Hotels, Restaurants, Cafes
The hospitalityindustry processes large amounts of water on a daily basis. Laundry service,cleaning and food preparation are just a few ways hotels and restaurants usewater. EWC not only protects the piping system but maximizes the use of waterand reduces cleaning expenses- all with an eco- friendly technology.
Educationalinstitutions, Buildings, Bungalows Societies
EWC protects thepiping system in the whole buildings. It cleans old pipes and protects waterheaters, heating systems, washing machines, bathrooms or showers in sportingfacilities. Also food court and restaurants will benefit from the EWC treatedwater with reduction in scale and better drinking water characteristics.
Solar poweredwater heater
This is a smartgreen alternative to traditional heating methods. EWC prevents scale- build upin the system. It keeps the heat exchangers and distributor pipes clean. EWChelps in reducing scale build- up in collector; it protects hot water tanks andvacuum tubes and keeps the system from over-heating.
Equipments inIndustries
Electronic waterconditioner is strongly suggested for water being used in boiler and other equipmentsin industries. Good water helps in functioning of equipments trouble free andreducing maintenance thus providing to be cost-saving and time-saving.