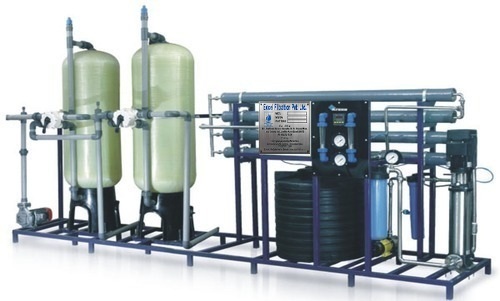 Industrial Drinking Water Plant
Product Code : 00
Product Description
INDUSTRIAL DRINKINGWATER PLANT
Deep well water, bore hole water, open well water, river water, lakewater, or sea water source, most water sources are not advisable for drinkingpurposes due to higher contamination present is not hygienic and safe fordrinking..
The water used for potable purposes should be free from undesirableimpurities. Mineral water, isthe type of water in which the useful minerals are added after the filtrationof the impure water.
The mineral water is the purified water fortified with requisite amountsof minerals such as Barium, Iron, Manganese,etc. which can be absorbed by humanbody.
About Mineral water
Healthy living means having a healthy diet, which includes healthy water.Mineral water contains all the crucial mineralslike barium, calcium, iron, magnesium, sulfur compounds, and others.
It does not contain any added preservatives or chemicals; hence there issurety of no-compromise with health. Some other health benefits of the mineralwater include:
Helps in losing weight, as it has zero calories
Helps in maintaining blood pressure, and good digestion & bonedensity
Reduces cholesterol level and has added benefits for your skin
Why to choose us?
We are one of the best manufacturersand suppliers of mineral water plants since 1995. All the materials sourced forsetting up these plants are of high quality and requires minimum maintenance.
At every stage of water purification,we try to ensure that the source water meets the best water treatment processesand phenomenon.
So that water can be treated in the bestpossible manner and people can get pure mineral water which they can rely uponanytime.
This is why clients completely rely onus for their mineral waterprojects, due to the efficient procedures weuse.
We have installed the best mineralwater plants with mineral adding system. 100% assembling of the plant takesplace right at our workshop itself before it is dispatched to the client.
And the best part is that during theproduction stages of mineral water, our unique filtration techniques ensurethat all essential minerals in water are protected, therefore maintaining itsnatural benefits.
Setup of mineral waterplants is done under hygienic conditions and the mineral water is filled inbottles that are fully washed and neatly cleaned, thereafter these are storedin purified conditions.
Through our solutions, we cater to therequirements of industrial well as corporate client.
Working Principle
Raw water to be processed Is collectedin tanks. A known quantity is pumped into the above tank where the water isdozed with alum for coagulation with heavy metals or insoluble matters.
The water after coagulation allowed settlingfor half an hour. The impurities may be removed by Reverse Osmosis techniquesalso.
The supernatural water is taken to the chlorinationtank where primarily disinfection is brought about by bubbling chlorine gas.
The water is then passed through sandfilters for trapping of un- dissolved impurities.
The water after sand filtration ispassed through Carbon filters for removal of odors, color and also forde-chlorination.
Product water has very less TDS valuewhich is not good in Taste. The Water gets bitter and to enhance the taste weare providing the Mineral Adding system or Blending system.
The Stirrer will mix the physicalmineral in to the Mixing tank and Dosing pump will dose the Mineral to waterbefore Ozonation with TDS Controller.
TDS adjustment can be done withBlending system by adding Filtered water after ACF through the propertreatment.
Such Blending system is very easy inOperation and it will naturally balance the TDS in to the Product water.
It is then passed through series of microncartridge filter comprising 5 micron followed by ultraviolet disinfectionsystem for terminal disinfection.
Mineral water packing is done in PETbottles of 1 liter capacity through an automatic rinsing, filling and cappingmachine fitted with an Ozone generator. The bottles after capping are shrinkwrapped and packed in corrugated boxes.