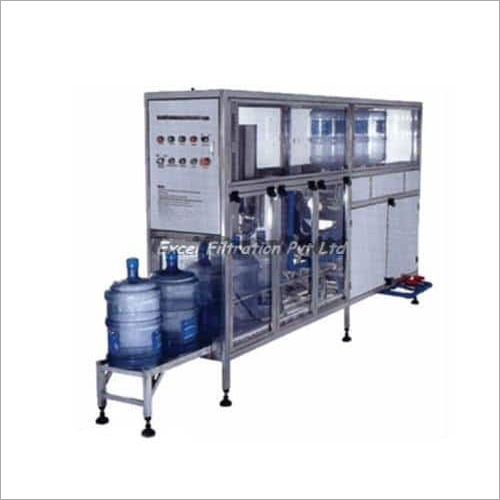 Jar Washing Machine
Product Code : 00
Price And Quantity
Unit of Measure

:

,
Product Description
Jar WashingMachine
Looking for energyefficient Jar Washing Machine at reasonable price range? We are proudto introduce ourselves as a Gujarat based renowned manufacturer and exporter ofpremium quality Jar Washing Machine.
Developed from 304 grade stainless steel, thismachine is useful for washing water jar as well as pet jar. Equipped with 3 phasemotor stainless steel parts and food grade PVC components, this specificmachine applies disinfectant spray in a circular motion for sterilizationpurpose.
As part of itsbottle rinsing process, it applies hot alkali, disinfecting water and purewater for proper cleaning and sterilization of water jar. The transparentwindow of this machine allows convenient monitoring of its washing process.
Featured with lowwater level and low pressure protection systems, this pneumatically andelectrically driven machine is preferred for its fast operation, high degree ofautomation, accurate dimension, capacity to wash 150 jar in each hour andtrouble free operation
Features
The automatic stopaction of this machine gets activated during low incoming air pressure andshortage of its stored water
Low volumeconsumption and easy maintenance system are some of the reasons of its wideapplications in various bottling plants
The superiorquality exterior coating of the machine protects it against rust
The filling volumeand filling speed of this machine can be adjusted
As a renownedorganization, we are engaged in offering a wide range of Jar WashingMachines.
Machine features
Easy maintenanceand easy operation.
Productiondisplay.
Man-machineinterfacing facility.
Service freefilling valves.
Noiselessgears & bearings
Electricaland electronic control panel with low voltage circuitry.
All product surfacesin highly polished SS304
No bottle nofilling
No bottle nocapping
Automaticfloat system for filling tank level
Programmablebased advanced automatic control panel
Specification

Storage Tanks and pipes: SS 304
Washing range: 1ltr. To 20 liter.Bottle
Washing speed: 2 bottles per stroke
Dimensions: L- 2.5'xW-3'x H - 5'
Weight: 120 K.G
Hot and normal water washing system
Pressurized washing