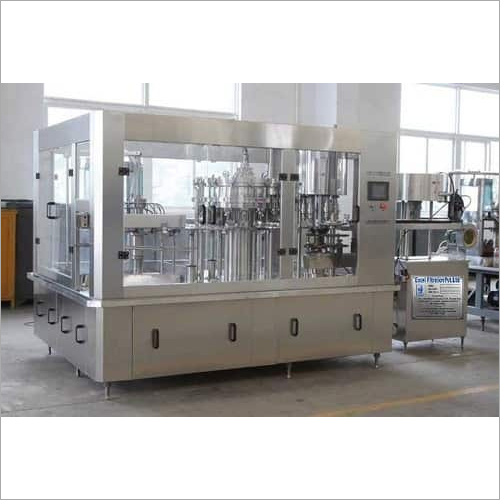 Semi Automatic Soda Plant
Product Code : 00
Product Description
Semi Automatic Soda plant
Juice Plant is designed and developed using latest technologysupport so as to provide for optimum fruit juice processing support. Further,the plant is so designed to take up small footprint as well as is also easy tomanage.
The sugar syrup is prepared first in jacketed mixing tank andthen it is mixed with fruit pulp, water along with other ingredients likeflavor, color, preservatives etc. in the other mixing tank.
This mixture is pasteurized to remove any microbial growth fromit and later on homogenized to prepare a uniform blend of juice.
To ensure quality, this juice plant is thoroughly tested on diverse parameters.Clients can avail these juice plants from us in several specifications as pertheir needs. Our offered product is made in accordance with the industry setguidelines by employing ultra-modern technology under the strict supervision ofskilled professionals.
Technical specifications
| | |
| --- | --- |
| Automatic Grade | Semi Automatic |
| Speed | 120 JPH |
| Production Capacity | 20 Liter |
| Driven Type | Electric |
| Voltage | 220 V, 50 Hz |
| Dimensions (LXBXH) | 10 x 2 x 7 feet |
| Weight | 500 Kg (approx) |
| Materials | SS 304 |
Features
Precisely-designed
Superior performance
Reliable operations
Providing for consistent performance support
Use of quality components so as to assure of maximumproductivity
Offering economical usage
Smooth functioning
Requireless maintenance
Applications
Ouroffered juice concentration plants are ideal for fruits such as pineapple,grapes, apple, mango and tomato.
OfferedFully Automatic Juice Plant Lines are well-equipped with different parts &components, which insure accurate & precise operational fluency. Themachines are primarily employed in beverage filling operations. The functionsof these are filling, sealing and bottle washing. Offered with an absoluteautomatic process, these are used for filling purified water, juices andmineral water.