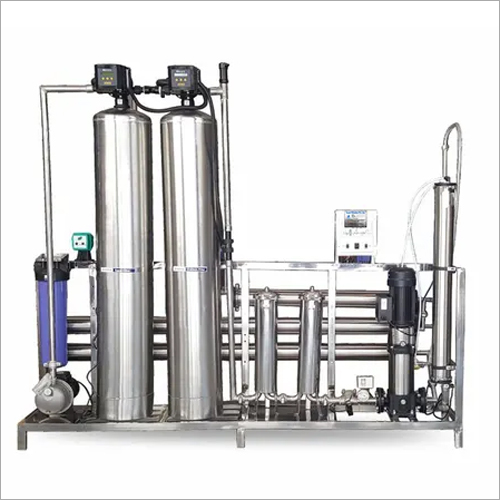 SS RO Plant 1000 Lph
Product Code : 06
Product Description
REVERSE OSMOSIS PLANTS (RO Plant)
Reverse osmosis (RO) is a membrane-technology filtration method that removes many types of large molecules and ions from solutions by applying pressure to the solution, when it is on one side of a selective membrane. The result is that the solute isr etained on the pressurized side of the membrane and the pure solvent is allowed to pass to the other side. To be "selective" the membrane should not allow large molecules or ions to pass through the pores (holes), but should allow the solution (such as the solvent) to pass freely. Reverse osmosis is used to purify Water and remove salts and other impurities in order to improve the color, taste or properties of the fluid. RO or Reverse Osmosis is the best hyper filtration technique which clarifies the brackish water, seawater by removing the salt, fluids, discharge, dissolvable solvents, dyes, bacteria and other harmful constituents.
Types of RO systems
The RO plants or solutions have been diversified into 3 categories as per the usage and requirements of the market:
Residential RO plants or systems

Industrial RO plants or systems

Commercial RO plants or systems
Why to choose us?
EFPL's offered machines are examined under the supervision of our experts for stringent compliance with set industrial standards. In addition to this, the offered range of products is highly praised by our clients that are situated all across the globe. Our portfolio of reverse osmosis systems includes those specifically engineered and designed for large industrial applications, medium sized commercial applications, small laboratory applications and trailer-mounted mobile systems for temporary and emergency applications. With decades of R&D and standard product development devoted to reverse osmosis systems engineering, and thousands of installations around the country, customer can rely on EFPL for their most demanding liquid separation and purification needs using reverse osmosis technologies. Our RO plants make sure to keep the natural nutrients to maintain the health level of water. We design customize solutions which are suitable for marine applications to purify a large amount of water at once with high-Performance capacity.
Treatment Process of RO plants:
Fluidsy stems RO plants work on the basis of Cross-filtration method, through which a percentage amount of feed water is rejected as the removal of solids during the filtration process. The whole process works through the combination of temperature and pressure. There are two elements while RO plants processing which are system recovery and product quality.
Working Procedure:
Reverse osmosis is water purification process in which pre-treated & filtered water is connected to the high-pressure pump where pressure is developed and fed to the RO membrane. Reverse Osmosis membranes work on the Cross flow Filtration method where the salts get rejected partially and deliver pure water. Purified water is referred to as product and waste water is referred to as concentrate or reject. The percent of water delivered as product is called the recovery. The ratio of recovery&output parameters depend upon the feed water quality, type of membrane,temperature and total RO unit design considerations.