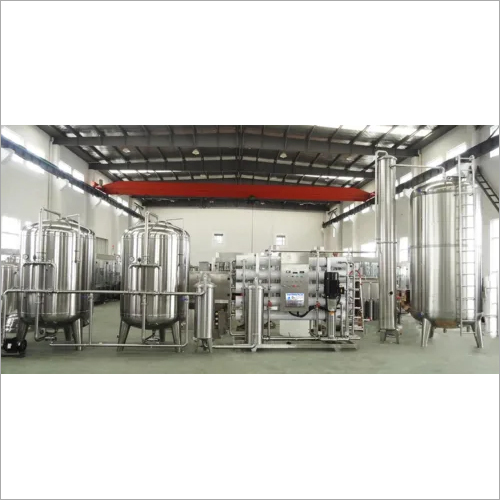 Turnkey Project Mineral Water Plant
Product Code : 05
Product Description
Mineral Water Plant

EFPL offered machines are examinedunder the supervision of our experts for stringent compliance with setindustrial standards. In addition to this, the offered range of products ishighly praised by our clients that are situated all across the globe. Ourportfolio of reverse osmosis systems includes those specifically engineered anddesigned for large industrial applications, medium sized commercialapplications, small laboratory applications and trailer-mounted mobile systemsfor temporary and emergency applications. With decades of R&D and standardproduct development devoted to reverse osmosis systems engineering, andthousands of installations around the country, customer can rely on EFPL fortheir most demanding liquid separation and purification needs using reverseosmosis technologies. OurRO plants make sure to keep the natural nutrients to maintain the health levelof water. We design customize solutions which are suitable for marineapplications to purify a large amount of water at once with high-Performancecapacity.

Treatment Process of RO plants:
Fluidsystems RO plants work on the basis of Cross-filtration method, through which apercentage amount of feed water is rejected as the removal of solids during thefiltration process. The whole process works through the combination oftemperature and pressure. There are two elements while RO plants processingwhich are system recovery and productquality.
Working Procedure
Reverse osmosis is water purificationprocess in which pre-treated & filtered water is connected to thehigh-pressure pump where pressure is developed and fed to the RO membrane. ReverseOsmosis membranes work on the Cross flow Filtration method where the salts getrejected partially and deliver pure water. Purified water is referred to asproduct and waste water is referred to as concentrate or reject. The percent ofwater delivered as product is called the recovery. The ratio of recovery&output parameters depend upon the feed water quality, type of membrane,temperature and total RO unit design considerations.
Raw water is water found in theenvironment that has not been treated and does not have any of its minerals,ions, particles, bacteria, or parasites removed. Raw water includes rainwater,groundwater from infiltration wells, and water from bodies like lakes andrivers. Raw water pump is way to transfer the water into the engine through aseacock fitting and pumping it through the engine's water jacket.
Pressure Sand Filter (PSF)
Here the water is filtered by Pressure sand filter forremoval of suspended matters and turbidity.
Activated Carbon Filter is used to adsorb chlorine, organics,tri-halo methane (THM), taste, odor, and color from Water & Wastewater.Activated carbon is a charcoal that has been treated with oxygen to open upmillions of tiny pores between the carbon atoms. Activatedcarbon works via a process called adsorption having efficiency upto 90% whereby pollutant molecules in the fluid to be treated are trapped insidethe pore structure of the carbonsubstrate.