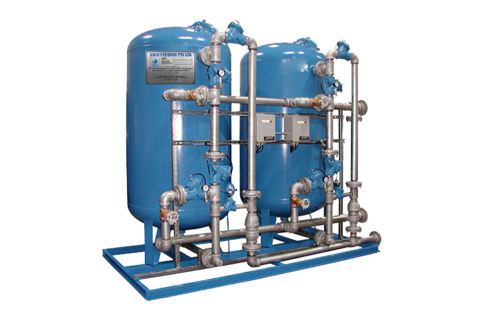 Water Softening Plant
Product Description
Water Softening Plant:-
Water softening plant is used for removal of total hardnessdissolved in water. Water softening plant ensures the maximum utilization ofthe effective surface area, uniform space and linear velocity across the resinbed which provides effective contact time between water and resin bed yieldsoft water and prevent any precipitation and scale formation on the surface ofheat exchanges and any process equipment where water is being used for furtherapplication.
Why softening is done?
Scale build-up in pipes, resulting in decreased flow rates
Scale build-up on heating and cooling systems, leading toincreased electricity costs and break downs.
White film on glass surfaces and staining on Water taps.
Increased laundry costs due to hard Water reacting with soap andlaundry detergents.
A softener controls scaling by removing hard scale formingcation such as calcium and magnesium and exchanging (i.e., replacing) theseions for non scale- forming sodium ions.
Working principle
Water softening is a process where Calcium and Magnesium ionsare exchanged for Sodium ions. Calcium and Magnesiu mions associated withAlkalinity contribute for scale formation. These ions are also called as Totalhardness.
The process of ion exchange softening is completed using resinbeads coated in sodium as a medium.
The sodium of the resins attracts the ions of the minerals thatharden the water.
As the hard water flows through the mineral tank, the sodiumions, which line the sides of the tank, are replaced by the mineral ions thatare in the water flow, thus removing those hard water minerals from the water,producing softened water.
When the resin is exhausted, it is regenerated with brinesolution(Sodium Chloride) 10 % or 15% brine solution is normally used for there generation.
Our Water Softening Plant is known for its low maintenance,strong construction and easy to install features. It is widely used indifferent sectors like dairies, pharmaceuticals, chemicals industries,hospitals and many more places
This compact self contained system comprises SS vessels, UPVC piping and many more components. Moreover, our highly effective Water SofteningPlant is based on ion exchange process to convert hard water ions of magnesiumto sodium ions.
It effectively removes all the hardness salts and provides avaluable return on your investment.
Water softener plant is designed to remove calcium and magnesiumions which cause the hardness of water.
The hardness in raw water gets exchanged with sodium ions in thesodium based cationic resin bed, thus giving real soft water
Water softening plant is available in Manual as well as PLC based controlsystem with Fully Automatic Option. It is available in FRP/MSRL models.Water softener plant is designed to cater to the requirement of scalePrevention of Utility / Plumbing Fixtures from Total Hardness.
softeners are available for Bungalow Institutional/ Industrialapplications.
Water Softening Plants have been peculiarly designed to maketreated water that is suited for various applications.
Treated water of this plant is of consistency quality & havereduced residual hardness throughout the service cycle. The plants are employedto remove excessive levels of dissolved calcium & magnesium.
Also, these are used for the separation of total hardness aswell as soluble iron dissolved in water