Industrial Ultra Filtration System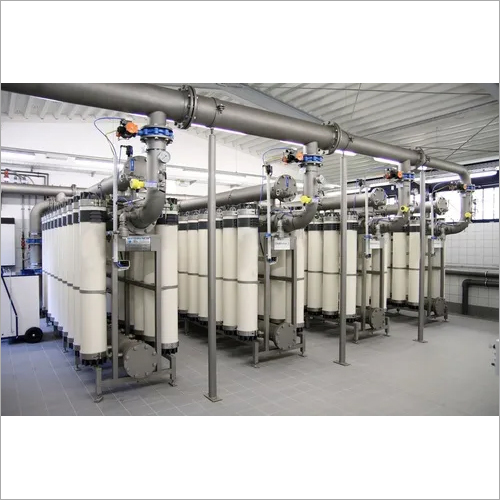 Industrial Ultra Filtration System
Price And Quantity
Product Specifications
Ground Water

220V/50Hz Watt (w)
Product Description
Ultra filtration is considered more effective as compared to traditional water filtration. It removes high molecular weight substances, colloidal materials, polymeric materials, organic and inorganic materials.
UF membranes used to remove high molecular-weight substances, colloidal materials, silt, turbidity, organic / inorganic polymeric molecules, algae, particulate matters, suspended solids and all micro organisms from Water & Waste water. Ultra filtration is a kind of membrane filtration which works through pressurized water flow. In this process, feed water is pumped to the modules with high pressure, depending upon the pore size of membranes contaminants are rejected.
Why to choose us?
ultra filtration Plants are designed for a variety of industrial & commercial applications requiring high quality equipment with a fast delivery and competitive price. These pre-engineered, per-assembled and factory tested units minimize installation and start-up time. With simple utility connections and easy to set up controls, the unit is ready for quick on-line service. The control system is an advanced microprocessor based system that is very easy to use. We offers tailor made solutions to detect or eliminate the solids, colloids, micro organisms from the surface or ground water to keep the water bacteria free.
Ultra filtration plant is designed on the basis of 4 membranes or modules which are:
Spiral wound module which less expensive yet more sensitive to pollution and consisting consecutive layers of large membrane
Plate and frame module: combination of plates and membranes to improve the bad quality of water
Tabular membrane: it is not compact and very costly as compare to others fluids discharge activities.
Hollow fiber membrane: containing small tubes or fibers to carry out inside-out and outside-in filtration process.
Working Principle
Ultra filtration is a unique pressure-driven physical separation process in which the water is passed through porous (partially permeable) membranes with pore sizes in the range of 0.1 to 0.001 micron. These membranes are in the form of long hollow fibers. The result is high pure water free from physical and biological contamination. Ultra filtration is not fundamentally different from micro filtration or neon filtration, except in terms of the size of them molecules it retains. Ultra filtration is utilized in two different operational modes such as Dead-End and Cross-Flow.
In Dead-End ultra filtration process, without circulation overall quantity of feed water is pressed through the membrane module; whereas, in Cross-Flow process the feed water passes parallel to the membrane face, one part is passed through membrane and other part is re-circulated to create turbulence over the membrane.
Technical Specifications
| | |
| --- | --- |
| Automatic Grade | Semi/ Fully automatic |
| Membrane Module | Plate and Frame, capillary, spiral- wound and tubular configuration |
| Membrane Pore size | 0.1 to 0.001 micron |
| Membrane Material | Hydrophobic poly ether Sailplane (PES) |
| Operating mode | Dead- end or cross flow, Back Washable |
| Dosing systems | Electronic dosing or as required |